The Warriors are a street gang from Coney Island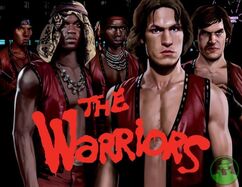 Backround
Edit
The Warriors were founded by Cleon and Vermin after they quit The Destroyers.
Cleon (Co-Founder/Former Warlord) (Deceased)
Swan (Warlord)
Ajax (Former Muscle) (Arrested for Rape)
Snow (Warchief)
Fox (Former Scout) (Deceased)
Vermin (Co-Founder)
Terrance
Ace (New Blood)
Ash (New Blood) (Deceased)
Cody (New Blood)
Jones (New Blood)
Lynx (New Blood)
Malcolm (New Blood)
Royce (New Blood)
Rhino (New Blood)
West (New Blood)
Ad blocker interference detected!
Wikia is a free-to-use site that makes money from advertising. We have a modified experience for viewers using ad blockers

Wikia is not accessible if you've made further modifications. Remove the custom ad blocker rule(s) and the page will load as expected.