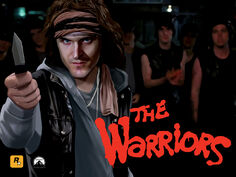 The Rogues are a street gang from Hell's Kitchen, Manhattan. They attended Cyrus's meeting and their Warlord,
Luther
, shot Cyrus and framed
The Warriors
. Leading to
Cleon
's death. The Rogues are a group of outcasts and punks, The Rogues are chaotic. They're are not the heaviest set in the city, but the abrsiveness and unpredictability even out the odds.
Luther (Warlord)
Cropsy (Warchief)
Ad blocker interference detected!
Wikia is a free-to-use site that makes money from advertising. We have a modified experience for viewers using ad blockers

Wikia is not accessible if you've made further modifications. Remove the custom ad blocker rule(s) and the page will load as expected.