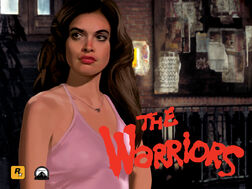 Mercy is
Swan
's girlfriend and an ex-prostitute.
Backround
Edit
Mercy used to be a prostitute and after that Sully, the Warlord of The Orphans's, girlfriend.
After The Warriors
Edit
It's is rumored that Swan quit The Warriors to move to the city with Mercy. And left Snow as Warlord.
Appearances
Edit
In the game Mercy appears in
5. Real Heavy Rep
15. Nor Permits, No Parley
16. Home Run
17. Friendly Faces
18. Come Out to Play
In the movie Mercy appears throughout.
Ad blocker interference detected!
Wikia is a free-to-use site that makes money from advertising. We have a modified experience for viewers using ad blockers

Wikia is not accessible if you've made further modifications. Remove the custom ad blocker rule(s) and the page will load as expected.