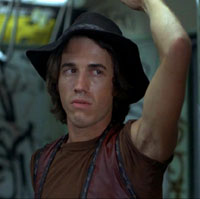 Cowboy
is a member of
The Warriors
. He is named Cowboy because he always wears his Stetson.
Backround
Edit
Cowboy is a former Destroyer. He quit with his best friend Swan. Later Swan and Cowboy join The Warriors. 
Appearances
Edit
In the Game he appears in
2. Real Live Bunch
3. Payback
6. Writer's Block
11. Boys In Blue
12. Set-Up (Mission Leader)
14. Desperate Dudes
15. No Permits, No Parley
16. Home Run
17. Friendly Faces
18. Come Out To Play
B. The Best
C. Heavy Muscle
In the movie he appears throughout.