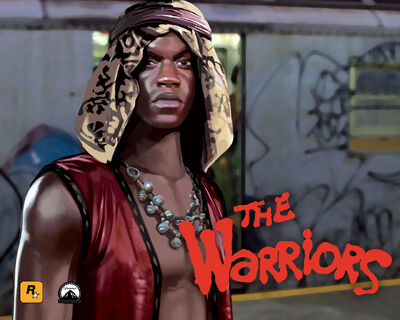 Cleon
is the former Warlord
of
The Warriors
Backround
Edit
Cleon used to be the co-warlord of The Destroyers along with Virgil. Then he leaves The Destroyers with Vermin and they create The Warriors. Later they recruit the other members.
Appearances
Edit
In the Game he appears in
1. New Blood
2. Real Live Bunch (Mission Leader)
5. Real Heavy Rep (Mission Leader)
8. Encore (Mission Leader)
9. Payin' The Cost (Mission Leader)
10. Destroyed (Mission Leader)
13. All-City
14. Desperate Dudes (Gets killed by The Riffs in this mission.)
A. Roots (Flashback Mission Leader)
In the Movie he appears in the beginning scenes only.
Ad blocker interference detected!
Wikia is a free-to-use site that makes money from advertising. We have a modified experience for viewers using ad blockers

Wikia is not accessible if you've made further modifications. Remove the custom ad blocker rule(s) and the page will load as expected.